2nd July 2017
aHA! You were all expecting 58 to be Bon Anniversaire! Well i'm pleased to announce that this year there will be no Bon Anniversaire and instead we'll be running a troll event. If you didn't pick up on that being a joke, Bon Anniversaire will be announced very soon!
Berlingos? Bingos? Grottos?
Track
ftp/Automobilista/Tracks/Various-SEs/Muellberg.7z
It was only a matter of time before we returned to the grotto and what better time to go back to a festive track than in the middle of the summer! It returns in all it's glory from the Maldonado Recovery truck to the Alonso bins to Shez at the final turn. Classic! A big thanks to @
MrRandom287
for getting this track working in AMS.
Car...
ftp/Automobilista/Cars/Berlingo.7z
Well I say car...It's not really. Citroen Berlingos that are actually Alfa Romeo 147 Touring Cars with a van shell. They feel like shit, they look like shit and they are pretty shit but at the grotto they come to life. Expect to be upside down numerous times. Oh, and there is no cockpit view because there is no cockpit rendered. Bonnet is the closest you're gonna get.
Bingo?
How on earth does bingo come into it? Well it doesn't really but the name was too perfect to ignore. Instead it's more of a lottery. To explain the concept further, I'll need to move into the livery section...
Liveries
ftp/Automobilista/Skins/Templates/SpecialEvents/Berlingo_Template.7z
These are important points so i'll divide them out.
You will not necessarily be painting your own van.
You will be painting

A

van and you are to submit that livery entirely anonymously
. No numbers, no names. Just a paintjob.
Once submitted, all of these liveries will be assigned a number. Then on the night of the race before Quali, we will distribute the liveries out using a random number generator. So I'll call a driver name, run the generator and the number generated will select which livery that driver will run. Duplicates will not be a thing.
Livery Rules
I can't actually believe i'm actually going to do this. I thought we pushed things a bit in the prime of the Offenders but this could get interesting.
The rules? There are no rules! I will ask that nudity not be a thing though because you can all do so much better than just putting a dick on the side of the van. Be imaginative and take inspiration from that famous Top Gear episode.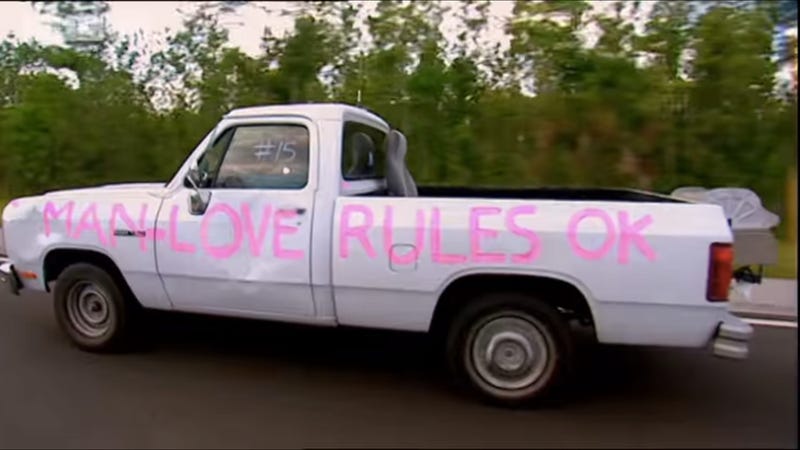 To aid people who aren't au fait with livery making, I'll create two submission folders. One for completed liveries and one that you can just dump a PSD, JPG or PNG file into and I'll convert it and put it in game for you.
The template is pretty poor as I had to make it myself. It's super ugly and messy but it's obvious what is what and I've labelled what I can to help you. No livery is going to look amazing using that template but they're not supposed to
Deadline Friday 30th JuneFormat
This is semi demolition derby rules. Contact is entirely encouraged, however refrain from using someone as a braking zone. Shoving and pushing is fine but don't go smashing into someone at full pelt to make the corner. Driving the course in the reverse direction is prohibited as is cutting the middle section of the course.
Much like the original run out at the Grotto, the event will consist of six races, each awarding points to the top ten finishers.
In traditional style, the final race will deliver half points.
Qualifying
- This will be a two minute session because troll event. It's going to be an absolute battle to get a lap in as there will only be enough time for a single flying lap and we'll all have to go out together in a huge cluster. Just make sure you obey the green light at the end of the pitlane as it won't count your flying lap and there won't be time to run another.
Race
- 5 laps standing start.
We will have a quali session before every race to maximise the carnage.
Practice - 6:30
Livery Draw - 7:00
Quali 1 - 7:30
Race 1
Quali 2
Race 2
Quali 3
Race 3
Quali 4
Race 4
Quali 5
Race 5
Quali 6
Race 6
This will be one broken evening.